About
The primary influences on digital marketing strategy does not differ significantly from the year before, nevertheless, we still see a dynamic development in digitalization with companies exceeding each other continuously by disruptive ideas.
The basis of innovation is researching consumer trends and consumer behaviour to then find patterns to be used for building an exceptional digital strategy. Our team has done the research for you and took a deep dive into strategies that are not only innovative but also proved to be effective.
Our report examines eight industries – such as finance, insurance, retail – and provides more than a hundred real-life examples to help you develop your digital strategy. Regardless of the size of your company, browsing our report will serve you inspiration that matches your interest with illustrations from big names like Balenciaga and Google to start ups So'use and Future for instance (yes, we intentionally avoided choosing brands with self-explanatory names to keep the mystery alive).
This Frontira Insights report features:
consumer trends identified
statistics on consumer behavior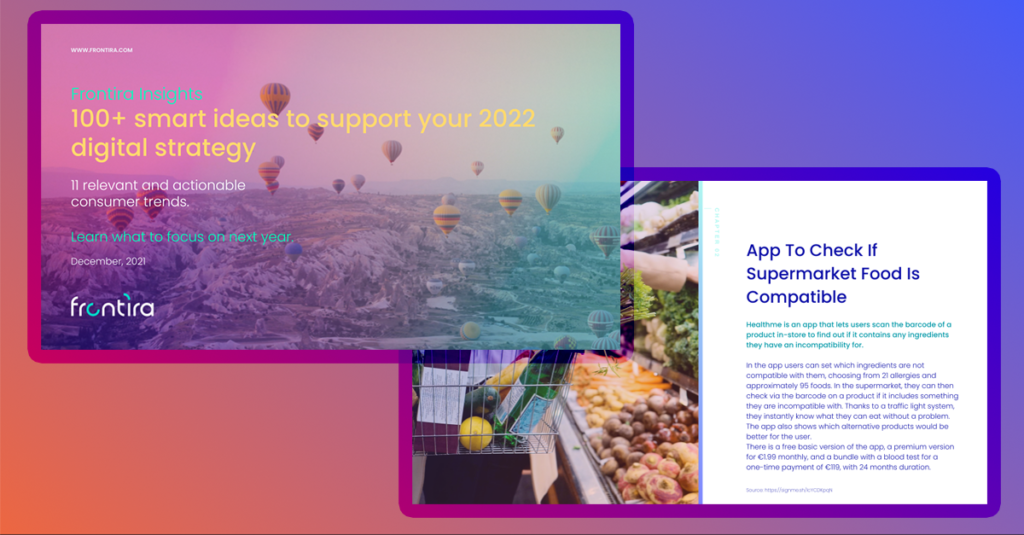 11 consumer trends identified
The chapters speak for themselves:
Green me

In control

Economize it

Selective attention

Purpose it

Local matter

Enjoyment across borders

Ethical me

Flexible lifestyle

Grooming redefined

Connect me
Any of that strikes a cord? We thought so. Download the report.
Highlights from our report
The concept is straightforward: providing all services faster, smarter, and digitally.
Do you want to make an impact? Send girls to coding camp, create clothes with QR codes advocating for donation, and accommodate refugees.

Do you want to grab consumers' attention? Take your art to OnlyFans, offer them a chance to play with an NBA star, let them customize their lipstick with AI.

Do you want your consumer to feel cared for? Design an app for their pet's health insurance, support them in saving money efficiently, or simply create a website where they can let out their anger.
Think outside of the box.
The question still remains the same: what are innovations destined to stay and what are solely convenient alternatives? This question is hard to answer, nevertheless our goal by providing real-life examples is that their results can be tracked down, so you can decide more wisely if the idea fits your notion.
Still feeling a bit lost? We at Frontira, are eager to assist you in implementing the digital strategy that simply works. Feel free to contact us if you have any questions about delivering end-to-end customer experiences, we are here to offer the best practices and a solid plan.
The report lines up the most visionary ideas that should form your digital strategy in 2022. Download it, read it, share it, use it as a wallpaper in your office, it is your decision. But it is definitely worth a look.
Interested in the 100+ Smart Ideas to Support Your 2022 Digital Strategy Report in PDF?
Sign up and receive your copy to your inbox.

Frontira is a Strategic Design firm that supports clients with smart thinking and doing. We define, build and scales digital businesses that create new growth for some of the leading companies in the world. We believe in using design principles and practices to guide strategy development and implementation toward innovative outcomes that benefit people and organizations alike.
Our teams are serving clients globally with a focus on financial services, telecommunication, pharma, and retail. Frontira is operating studios in Berlin, Budapest, Salzburg and works with an international expert network.