About
Sustainability, environmentally friendly, circular economy, these have all become buzzwords in the past few years for a reason; however, brands often exploit the hype around sustainability in the hope of profit without providing real value. What is left behind? Confused customers and the endangered planet.
This Frontira Insights report features
cases of sustainable innovation
But how exactly does greenwashing work? The base is a relatively true environmental statement, aiming at catching the attention of customers, that essentially lacks real solution and even ignores alarming aspects. Hence, it deceits people by making it challenging to decide whether there is real meaning behind the campaign.
What is frequently overlooked is that despite of saving money short-term, it's a lose-lose situation on the long run, because companies deprive themselves of maximizing the business potential of innovation and regenerative design – apart from misleading consumers.
In our report, we gathered 14 innovative cases of campaigns revolving around sustainability that prove how all industries could benefit from applying a more eco-friendly attitude.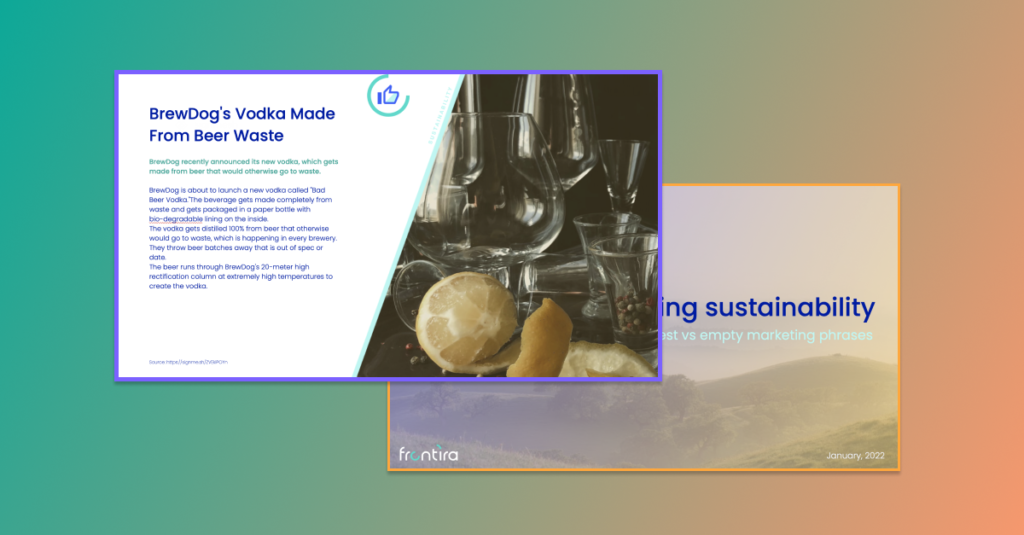 Still not feeling motivated to stand on the right sight of history?
Let's be honest, you won't really have a choice on the long run.
Wouldn't it be more beneficial to start incorporating sustainable initiatives instead of panicking every time a new regulation comes out?
Interested in the 18 Cases on Promoting Sustainability Report in PDF?
Sign up and receive your copy to your inbox.

Frontira is a Strategic Design firm that supports clients with smart thinking and doing. We define, build and scales digital businesses that create new growth for some of the leading companies in the world. We believe in using design principles and practices to guide strategy development and implementation toward innovative outcomes that benefit people and organizations alike.
Our teams are serving clients globally with a focus on financial services, telecommunication, pharma, and retail. Frontira is operating studios in Berlin, Budapest, Salzburg and works with an international expert network.