Many brands are successfully experimenting with new ways to create brand fans and new levels of brand engagement in the emerging space. However, it can be challenging for brands to include NFTs in their offerings or create a space in the metaverse. Our new report offers 100+ use cases, so that everyone can find their perfect fit.
The first NFTs appeared around 2012. However, it was not until 2020 that the world of business started to pay attention. An NFT is a certificate of ownership of a digital good that's supposed to be made in a limited quantity. They can be attached to digital pictures or memes, video clips, or even something as abstract as the original source code for the World Wide Web. Simply put, you get a specialized link that proves your connection to that digital asset.
The metaverse is currently the hottest topic in business. Hence, more and more brands want a slice of the cake. What we can see is that brands are not solely using the platforms as tools to reach their initial goals, but they are experimenting with the capabilities. They try to understand the basis of the metaverse and thus evaluate what possibilities it holds for them. The future of the metaverse is unpredictable. Thus, we can only make guesses based on what we would like to see.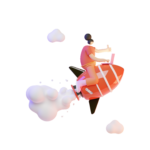 Frontira is a Strategic Design firm that supports clients with smart thinking and doing. We define, build and scales digital businesses that create new growth for some of the leading companies in the world. We believe in using design principles and practices to guide strategy development and implementation toward innovative outcomes that benefit people and organizations alike.
Our teams are serving clients globally with a focus on financial services, telecommunication, pharma, and retail. Frontira is operating studios in Berlin, Budapest, Salzburg and works with an international expert network.